(news)
Nikon today issued a service advisory for the original 10-30mm f/3.5-5.6 lens (the one with the button you have to press to extend the lens for shooting). Over time this lens has a tendency to lose communication with the camera, resulting in an error message being displayed. This can occur with any Nikon 1 body.
Nikon will provide free shipping, inspect the lens, and repair the lens if necessary, also for free. Lenses that have already been serviced have a black dot in the slot for the camera pin that engages the lens when mounted (see below).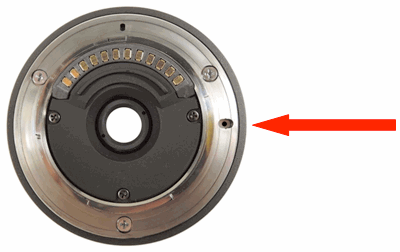 Anyone who previously paid for such a repair should contact Nikon directly.