What is It?
The E-M1 is the second camera in the OM-D lineup. First came the E-M5, then the E-M1, and after that we got the E-M10. If you're trying to make sense of that naming scheme, a lower number is a better camera, a higher number is a less specified camera in some way. Still, they're all recognizably made from the same camera platform and share a lot of features. 
E-M10
E-M5
E-M1
Sensor
16mp CMOS
Sensor Stabilization
3-axis (yaw, pitch, roll)
5-axis (yaw, pitch, roll, vshift, hshift)
Weatherproofing
None
Dust and Splash
Dust, Splash, Freeze
Max Frame Rate
8 fps (fixed focus), 3.5 fps (continuous)
9 fps (fixed focus), 4.2 fps continuous
10 fps (fixed focus), 6.5 fps continuous
EVF
1.44m, 1.15x, 20mm eyepoint
1.44m, .92x, 18mm eyepoint
2.36m, 1.3x, 21mm eyepoint
LCD
1.04m tilting touch
610k tilting touch
1.04m tilting touch
Focus System
Contrast
Contrast
Phase Detect + Contrast
Shutter
60 to 1/4000
60 to 1/4000
60 to 1/8000
Flash
Built-in
External FL-LM2 included
External FL-LM2 included
Other
Accessory slot
Accessory slot, PC Sync socket
WiFi
Yes, 802.11 b/g/n
No
Yes, 802.11 b/g/n
Weight (body)
12.3 ounces
12.9 ounces
15.6 ounces
Price (body)
US$700
US$1000
US$1400
So what really sets the E-M1 from the E-M5? Here's the basic list:
A new focus system that adds phase detection system that's used when you use continuous autofocus (focus tracking) or if you mount an older Four Thirds lens via adapter.
The EVF has been boosted to 2.4m dot with a bit bigger magnification (appears to be larger to the eye when looking through the eyepiece). We also get focus peaking in the EVF as well as HDR blending in real time in the EVF.
TruePic VII adds more lens corrections but also some other subtleties to the in-camera rendering.
No low-pass (AA) filter over the sensor (the E-M5 had a weak AA filter).
The EM-1 seems to use a Panasonic-supplied sensor rather than a Sony-supplied one, though in terms of image quality, they appear to be identical.
Added dials and controls, including the useful dual mode for the dials introduced with the E-P5 (a switch changes two buttons and both dials in terms of what they control). The body is more substantial than the E-M5, more like the E-M5 with the partial grip attached.
Shutter now goes from 60 seconds to 1/8000 second (up from 1/4000) and has a 1/320 top flash sync speed.
New connectors for microphone and PC-sync.
WiFi is built in.
As before we have a 16mp m4/3 sized sensor with a 4:3 aspect ratio, which produces 4608x3456 pixel images. You can also set 1:1, 3:2, and 16:9 aspect ratios, as well, though you'll get a lower pixel count. ISO values from 100 to 25,600 are supported, as is Auto ISO (though not with minimum shutter speed). The sensor itself is set on Olympus' "five-axis" image stabilization system. 
The E-M1 can shoot at up to 10 fps. Note that this is a bit misleading, as this doesn't work with all lenses, requires that the IS system be shut off, and locks both focus and exposure on the first frame. In practice, the E-M1's fastest frame rate without compromise is 6.5 fps (which for some reason is set to 6 fps in the camera). 
A flexible bracketing system allows up to 7 frames at up to 1 stop apart, plus white balance bracketing. As with earlier Olympus m4/3 cameras, you'll find a ton of somewhat labyrinthianly-organized and cryptically-named options that allow you highly configure the camera in ways that are personal to you. Nothing has gotten simpler in the menu system since the initial plunge into Oly Madness of the original Pens. The good news is that the feature set and the configuration abilities are very wide and deep. There's not much that Olympus has left out. 
The EVF has a fast refresh, though it slows down in low light. It also features a system that attempts to brighten and darker the backlighting based upon the ambient brightness. While not perfect, this does help with the night vision adjustment issue of the human eye in extremely low light. If you don't like this feature, you can disengage it via a deeply buried menu setting. Like the Fujifilm X-T1, the magnification of the EVF is high enough to make it very much like a full frame DSLR in appearance to the eye. Olympus has come a long way from the tunnel viewfinders of the original 4/3 systems. 
Out back the camera has a tilting 1.04m dot 3" LCD. The tilt function isn't dramatic, being only 80° upward and 50° downward. Tilting the screen turns off the EVF's proximity sensor, by the way, which is a nice touch. The downward tilt might get in the way of some tripod setups, but not the ones I tested.
A built-in flash is not included, though Olympus supplies a small external flash with the camera, which is powered by the camera. Olympus' flash system supports wireless flash control, rear sync, a virtually every other flash function you might want.
Video capabilities are mostly basic: 1080P, 720P, and 480P all at 30 fps only, recorded in H.264 compression or Motion JPEG. This is not a videographers camera, but it can supply basic functional video if you need it. The camera does have a time-lapse function.
The battery used is the BLN-1 lithium-ion one Olympus has used for awhile now, and it's rated at 350 shots CIPA. If you use the supplied flash a lot, you'll likely get lower battery life than that, as it charges from the camera.
Curiously, Olympus hasn't caught the GPS bug. There's no provision for it in the camera.
If you're just comparing bodies, the E-M1 is a bit bigger and has a more substantial hand grip than the base E-M5 (you can add an optional grip to that camera, which has two variations). A few additional controls have appeared in the extra real estate and a few have migrated, though this is still not a large camera. The E-M1 and Fujifilm X-T1 are about the same size, and both are somewhat smaller than prosumer DSLRs with crop sensors. So the size/weight advantage of the original OM-D design is still present, just not quite as dramatically as before. If low size/weight isn't your cup of tea, Olympus makes a vertical grip for the E-M1 that'll make it dramatically bigger and heavier. 
The E-M1 is made in China and retails for US$1400 body only. 
How's it Handle?
One can't ignore the elephant in the room. Olympus's menus are still the same-old mess and their names for options not always decipherable on first glance, plus the camera doesn't always do what you think it does. It's long past time for Olympus to address this unnecessary complexity on what are otherwise fine cameras. As I've written before, my head hurts every time I have to set up a new Olympus m4/3 camera the way I want it to be. Not only do I have those sprawling menus and option names to deal with, but Olympus also sneaks in a little subtle change every now and then, some of which are easy to miss on first glance.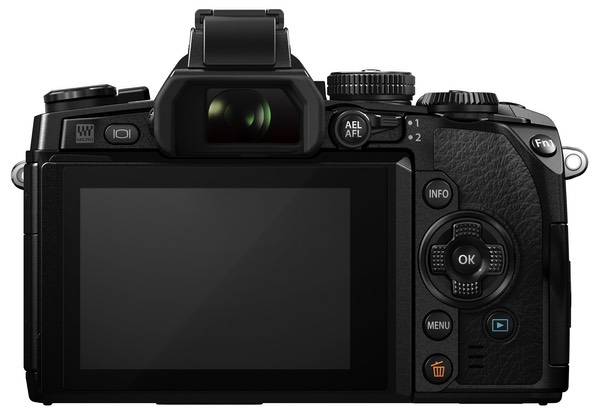 So, as before, be prepared to study the camera, the manual, the camera and manual again, and spend some serious time working through every option until not only do you understand what everything does, but you've also managed to get the camera configured to your liking. This is not a 10-minute job at the side of the trailhead. It's a serious Saturday or Sunday's worth of concentration. Followed by testing while some shooting and perhaps some additional fine tuning. 
Funny aside. While I was editing this review I got an email from someone who couldn't figure out how to set RAW+JPEG on their OM-D. Well, that's probably because they were looking for it in the menu system. You know, some menu item named Image Quality. Good luck with that, because in the menu Olympus has chosen to name that function with an icon only. And the icon is a bit cryptic (a diamond with the left half solid, the right half dots). But if you select that icon and right button over you'll find the menu you're looking for. Yeah, it's that bad. (Good news is that there are simpler ways of setting this function, though you might not know how to get to them until someone shows them to you.) Message to Olympus: get a UI expert involved with your menu system and test your menu and item names for recognition. 
That said, many things changed for the good in terms of handling. 
First up, I have to mention how much I prefer the new body bulk and shape as opposed to having to use at least half of the optional grip to get a solid grip on the camera. The E-M1 built-in grip is deep enough to hold easily, and the right hand position, while probably cramped for large hands, feels fine for mine. 
Autofocus is one of those places where the elephant I mentioned earlier sometimes pokes its head into the room for newcomers to the E-M1. It doesn't quite work the way you might think. 
If you use older Four-Thirds lenses on the E-M1 via adapter, autofocus is always done via the phase detect (PD) system on the imaging sensor. Always. These PD sensors are arranged in a 37-point grid that's more typical of a sophisticated DSLR focus system. In other words, subjects in the central region are easily selected, but you can't get focus out past the rule of thirds positions.
If you use newer m4/3 lenses, autofocus is done via contrast detection in Single-AF mode, and you have a nearly frame-wide 9x9 grid of focus sensors to choose from, or a smaller set of sensors in the same positions for precise focus selection. In Continuous-AF the camera switches to a combination of phase detect and contrast detect for m4/3 lenses. 
This system has its pluses and minuses, but it also is more nuanced than many E-M1 purchasers think. In essence, for single focus acquisition with regular lenses, the E-M1 is much like the E-M5 before it: mostly snappy, but it can stumble in low light or low contrast situations. For continuous autofocus, the handoff between phase detect and contrast detect is fine for regularly moving subjects, not so much for subjects changing direction a lot. 
This is perhaps a good place to mention that the original Four Thirds DSLRs are now officially dead. Because the E-M1 functions well enough with the older Four Thirds lenses and has a better feature set than the last E-5 DSLR, it's highly unlikely that Olympus feels any obligation to make another Four Thirds DSLR. E-3 and E-5 owners should think strongly about moving up to an E-M1. Focus performance is pretty close to what they expect with their older lenses and even sometimes better, plus they have a newer, better camera with more features.
Tucked away in the menus is one nice touch: you can adjust the phase detect fine tuning capability on a per sensor (or all sensors) basis, and you can set different points for wide and telephoto ends of zoom lenses. Moreover, since this is a mirrorless camera, the E-M1 will show you the results of a tuning immediately. Nicely done, and relatively straightforward; certainly more approachable than the DSLR fine tune systems. (And by the way, the DSLRs could do this, too, by immediately doing a phase detect focus using the just set fine tune value then turning on the Live View at a magnified level to evaluate.) That said, I'm not finding a lot of use for it with m4/3 lenses. It really comes more into play with using older 4/3 lenses via adapter, where there may be some small differences in how motors drive the lens to a focus point. Because m4/3 lenses always trigger contrast detect for final focus, they just don't need this nice feature.
I wasn't as struck by the focus peaking capabilities for manual focus lenses, however. It seems to me that focus peaking on the E-M1 is a little less optimal than it is implemented on some other cameras. I had a hard time telling exactly where the focus plane really was from the highlighted areas. I tend to just use focus magnification because the EVF is good enough to do the level of discrimination I need.
Speaking of the EVF, it's clear, big, and has a reasonable refresh rate. I'd judge the Fujifilm X-T1's to be slightly better, but there's not enough difference to get excited about. Indeed, I like the Olympus live histogram and its options better than Fujifilm's. With my glasses on I can see the full display, plus Olympus provides easy-to-see information about the status of the camera. However, the viewfinder doesn't reorient the way Fujifilm's does when you go vertical. So I can find things about both the E-M1 and the X-T1 viewfinder I like better and wish that the other company would do, but these are both state-of-the-art EVFs. After shooting with them for even a short time the only time you really notice that they're EVFs is when you're dealing with potential lag (e.g. fast moving subjects and/or continuous shooting). 
The tilting rear LCD is a definite plus, and it's fairly readable in bright light, but it doesn't tilt quite as far as most implementations do these days, and without the clearance of my Arca-style plate it can get slightly hung up on my big tripod when I try to tilt it up (but not down). Not a big deal, but something to check if it concerns you. 
Olympus' dual mode controls—there's a switch labeled 1 and 2 next to your right thumb on the back of the camera as you hold it—are a nice touch. The fact that these lead to programmable options, as well, is even nicer, though again the way the menu system deals with that will give you a bit of a pause at first. Olympus use of options labeled Mode1, Mode2, Mode3, etc., and then forcing you to look elsewhere to figure out what that means coupled with the density of options could use some improvement. It's another example of plenty of sophisticated flexibility masked by some undue complexity in getting that set the way you want. 
Part of the problem is that there's not exactly one single place you go to "customize" the camera. Sure, you go to the Custom Settings menus, but there are 11 of those, some of which are scrolling, to boot. Olympus is very close to "program any control" but it's up to you to figure out how to organize your thoughts on that as you'll be using multiple menu items to do that, some of which interact a bit. 
Another interesting factor that comes into play is the legacy support for older Pen-style setting. For example, press the OK button and you get the scrolling icon-based quick menu on the right with the options for the currently selected item across the bottom. Use the Direction pad to pick particular settings. Yet virtually all of these things now have dedicated controls. This is one of those design dissonances that happen from time to time: Pen users moving up to the E-M1 still have their familiar control system they can use until they've figured out E-M1's native controls, but people completely new to the Olympus system now have multiple ways that seem to appear to do the same thing (at the defaults), which can be confusing to the new user. 
Worse still is that there's yet another way to do quick menus on the E-M1 (and most recent Olympus cameras): toggle the rear LCD to display them while shooting via the EVF (the EVF shuts down when you move your eye to look at the rear LCD). Now when you press the OK button you get another method of quickly setting all those common things. This is one of the reasons why new-to-Olympus users find the cameras confusing: lots of options to do the same thing, so which should they use? 
The good news about the OK button quick menus is that by recessing the Direction pad (plus the protection from the thumb rest) I no longer find my camera set to something random as I often did with the Pens. Still, I wish I could turn this function off. (Maybe there is, but I can't find it.)
But that recessed Direction pad is both a good news/bad news situation. It's certainly not as bad as the Fujifilm X-T1's recessed buttons, but during the winter with gloves I was having trouble getting to the right place on it with consistency. If you can find the center (OK button) then you can just move by direction and press. But if your gloves are thick enough that you can't easily find the center button, you tend to hit a direction first, which the way I have my camera set moves the focus point. Fortunately, with all the other controls on the camera, the Direction pad isn't central to changing settings (unless you configure it to be). But I like to control the autofocus position via the Direction pad, and I find the E-M1 less optimal at this than some other cameras I use. Not terrible, just less-than-optimal. I sometimes find that my focus area has moved from where I thought it was.
Nuance things like that always bother me. I'll admit I'm demanding and want things to be perfect on the gear I'm using. I want to be thinking about my photo and not the camera when I'm shooting. So I get upset when things come close but aren't quite right. Olympus keeps getting closer, but they haven't quite nailed it for me yet. 
That said, every time that I had an extended period of use with the E-M1 I got very comfortable with the handling of the camera. Part of that was getting it set up the way I wanted, part was that there are some subtle differences that might hang you up if you move back and forth between cameras systems as I often do.
For example, exposure compensation. The E-M1 has front and rear dials, though on the top plate instead of embedded in the grip positions ala Nikon. So there's getting used to the slightly higher dial positions. But in Aperture-priority mode, my preferred shooting mode, the front dial is aperture and the rear dial is exposure compensation (default). This is a bit like setting a Nikon via Custom Settings to use Easy Exposure Compensation, which I don't like. Why don't I like it? Because it's too easy to move exposure compensation without noticing. 
Okay, some more explanation: I rarely use exposure compensation, though I'm aware that a lot of amateur photographers seem to dial in a different value for every shot. So my bias is that I don't like exposure compensation that can be easily changed by brushing up against something (and the rear dial of the E-M1 overhangs the rear top plate, so it is pretty easy to brush it, though the dial does have click stops that help you notice if its your finger that hit it). In two week's shooting in the Galapagos with the E-M1, I found that the number one thing that was happening I didn't like is that the exposure compensation was getting changed without me noticing (the number two thing was my focus position changed without me noticing). But the light rarely varied while I was shooting. At first I just tried to look at the EC value all the time, but eventually I just turned off having EC on the dial by default.
Of course, this gets me back to the menus of the E-M1: so if I make both dials change aperture while shooting, something I'm always looking at, how do I get exposure compensation when I need it? It took me a bit of study to find that I could set the FN1 button to be a toggle for the dial to go into exposure compensation mode and stop the random dial changes I had been getting. 
So that's the bottom line on most of the handling issues on the E-M1: you can pretty much make the controls do what you want them to (with a few exceptions), but figuring that out will take you time. The camera has a dense warren of options, basically. Very dense. The thing Olympus still needs to do is take all that flexibility and make it simpler to approach and understand.
I should point out that the controls all feel quite good. While we've got plastic buttons and dials, they all have a good feel and work well. Most are in very good positions, though the relocation of the On/Off switch isn't one I agree with. Basically when you pick the camera up to shoot you have to two-hand it to turn it on, whereas most "good" designs you can one-hand because the On/Off switch is where on of the fingers on your right hand can find it as you grip the camera. The On/Off switch on the E-M1 should have been under the Mode dial on the shutter release side. 
Which brings me to a problem I noted. If the camera has powered down for a short time, the Olympus will repower on almost any button press, which is good. But if its been sitting for awhile, no button press recovers the power, even with the power switch in the On position. So you have to flick the switch off and back on again, again a two-hand operation.
The E-M1 is probably the best handling, small, DSLR-like mirrorless camera at the moment. Once you get it configured to your liking, that is. But that also means it tends to be a frustrating camera until you've figured out Olympus' options and got them set where you want them.
How's it Perform?
Battery: I've been getting higher than the 350 shots of the CIPA rating out of the camera, probably about 25% more. This is quite acceptable to me, though for my shooting it also meant that I always need an extra charged battery along with me. Note that flash usage will bring your battery down faster (I don't tend to use flash with the camera). WiFi also chews through batteries fairly quickly, which is a shame, because you can remotely control the camera from your smartphone. Leave it off if you're not using it. Olympus' charger is very slow to charge a battery, by the way (3 hours), which is why I use a third party charger. 
Card speed: I can't say I ever hit buffer full, even shooting bursts of birds of flight at the fastest frame rate (which is 6.5 fps with the camera fully operational, by the way). The E-M1 has both a big buffer and a fast card write speed (with UHS-I cards). Even with the buffer full shooting raw I was able to achieve 2 fps (more with JPEG). But I had a hard time getting to buffer full, since that's about 45 raw frames with focus, and rarely could I hold a subject in focus that long. I'd back out and start over more often than not. 
JPEG shooters are basically going to consider the E-M1 as a "continuous shooter" with state-of-the-art cards. First, the buffer is over 125 frames at 6.5 fps, but also the camera will still be at about 5 fps once the buffer is full. Nice. This is the way cameras should be: in essence the buffer/write performance simply isn't seen by the user because they never really hit the limits, and when they do, they barely notice. Even though Fujifilm has upped their game with the write performance of the X-T1, it doesn't come close to matching the invisibility of limits that the E-M1 displays during most shooting.
Autofocus: The E-M5 wasn't exactly a slow-to-focus camera, and the E-M1 is more of the same with the m4/3 lenses. With enough contrast on the subject in decent light, I'd describe focus acquisition as very snappy in S-AF. I never really found anything to complain about with single focus unless I tried to focus on a very low contrast subject or in extremely low light. 
However, in C-AF things are a little different, and it's somewhat lens and focal length dependent. With wide angle and normal focal lengths in good light, again, I wouldn't tend to complain about the focus performance at all. The E-M1 is arguably as good as a low-end DSLR in such situations, as long as the subject movement isn't too random. It's when we get to the telephoto focal lengths that I start to see the jitter problem of putting contrast detect at the end of phase detect, and that becomes especially true of subjects that aren't moving at a constant speed, that stop suddenly, or reverse direction of travel. 
Contrast detect tends to be a closed loop system: move, check focus, repeat until focus found. When you turn on Release Priority, you give the camera an "out" from that loop. If you set "Focus Priority," you get the same problem the Fujifilm X-T1 has: your frame rate will likely drop and get more erratic. But if you don't, Release Priority will net you a lot of images that are close to, but not quite, in focus in my experience. The more telephoto and the more compressed the DOF is, the more the system seems to be missing as it tries to catch up to the subject from the position the phase detect system told it to start. In a few instances, I saw clear instances of jitter, where the contrast system overshoots and corrects back, overshooting again and correcting again.
This isn't terrible, but it's about where SLRs were a couple of decades ago, where they'd have a tendency to hunt for focus and this could cause small focus misses (or no picture at all if Focus Priority was set). What I will say about the E-M1 is that when it drifts off focus in a continuous sequence, it tends to get back to focus on telephoto lenses faster than the Fujifilm X-T1. I've noticed a lot of folk publishing sequences of photos from the E-M1 that they claim are "in focus" that really aren't. They're close to in focus, but not actually in focus. The focus plane is moving fore and aft of the subject. To some degree depth of field from the smaller sensor can be your friend, especially if you aren't maxing out on a fast aperture lens, but be prepared for frames when the focus isn't perfectly nailed. 
That said, I was pleased with the performance of the E-M1 in the Galapagos. For a lot of work it wasn't far behind the D7100. It was really when I used longer lenses on fast, small, and randomly moving subjects that I had troubles keeping my hit rate up. 
It'll take you awhile to master the E-M1's autofocus system. It's rich with options and if you're coming from a DSLR the slight lag in the EVF will take some getting used to. But as a number of us proved in the Galapagos, you can shoot birds in flight with it by getting the settings right, practicing, and learning to live with a few things that the camera can't do quite as well.
I should point out that I've only had the chance to test one older Four Thirds lens with the E-M1 via adapter. My impression of that matched my memory of the E-5: decent and predictable performance, though not up to current DSLR levels. Once Olympus has their new long m4/3 telephoto options available, I might try to borrow the similar Four Thirds lenses and look at the differences in performance. I suspect there will be better performance by the m4/3 lenses, which means that the old Four Thirds lenses will slowly be rendered to historical status. But based upon my use of one telephoto Four Thirds lens, if you've already got one of those lenses, the E-M1 is a fine camera to put it on; it'll perform as well as the old Four Thirds DSLRs, I think.
Image Quality: raw files are basically the same with the only difference being very slightly better acuity (and potentially slightly more moire) at fast apertures due to the removal of the AA filter. In terms of noise, dynamic range, and other things, I can't find any difference that couldn't be due to sample variation between my E-M1 and E-M5. Thus, I'd suggest you look at my E-M5 review for a discussion of those things.
With JPEGs, things change a bit due to the changes in the imaging ASIC. My characterization of these changes would be that the E-M1 is showing a little less contrast and sharpening than the E-M5 at the same settings. At higher ISO values there's a little less blockage of color that occurs, especially once you get to ISO 6400. Both cameras have clear smearing of low level detail due to noise reduction at high ISO values.
Overall color rendering seems to be about the same at base ISO, and as before, the E-M1 JPEGs have a lot of snap to them, though just a bit less contrast. Most of the differences in JPEGs between the E-M1 and E-M5 are subtle enough that most users won't see them. One clear difference is a reduction in chromatic aberration in JPEGs, though it isn't a perfect reduction, just clearly visible as better. 
As with the E-M5, Olympus is getting quite a bit of performance out of the E-M1 for its sensor size. It doesn't quite match the 24mp APS DSLRs, but it's fighting above its weight class. So let me show you why I write that:
Here's an image I took in the Galapagos. You might note the 16:9 presentation. I don't like the 4:3 aspect ratio, it's a little too close to square for me, so I leave my E-M1 set with 16:9 guide crops in the viewfinder, but capture the whole 4:3 frame. When I edit, I edit down to my 16:9 choice. Usually. 
One thing to note about this image is that it's about as high contrast as you can get: mid-day sky, deep shadow. Yet with only a small touch on the Highlight/Shadow sliders in ACR, my sky is at 215 and my deep shadows are at 30, right about where I want them for prints. That said, there's recoverable shadow detail and highlight detail still left that I haven't used here. 
I will say that Olympus' linearity seems a tad towards the darker side. I find myself boosting shadows a bit more than I do on my APS DSLRs. But that generally hasn't proven to be a problem.
Bottom Line
Olympus did a lot of things right with the original OM-D (the E-M5) and brought mirrorless much closer to the DSLR experience. The E-M1 continues that and gets Olympus even closer. For some users, it may even be "there." 
The two warts in the E-M1 are (1) complexity of menus/customization, and (2) not-quite-DSLR focus performance. Pretty much everything else is where I'd want it to be with this camera. It's a nice size and weight (and the smaller m4/3 lenses make that really obvious when going back and forth between the E-M1 and one of my DSLRs). Yet it gives up very little. 
The controls on the E-M1 are nice, usable, configurable, and pretty much where I'd want them to be. The EVF and titling touchscreen have plenty of benefits over DSLRs, though lag is still not as small as I'd like it to be (240Hz refresh, anyone?). 
As I was packing my bag for yet another trip as I was writing this, I'll use this moment to once again castigate Canon and Nikon for their dearth of crop-sensor lenses other than convenience ones. My m4/3 travel kit is just smaller, lighter, and much more compact than even my crop sensor DSLR kit. Given all the limitations airlines are putting on us these days smaller mirrorless cameras just get more appealing every day that passes. With a couple more lenses, m4/3 will get me to the point where I don't think I need DX cameras any more. Well, okay, I'm spoiled by the continuous autofocus performance and 24mp of my D7100, but I'm also tired of carrying huge loads in my backpack, too. 
The E-M5 was my camera of choice for long hikes, and it's looking like the E-M1 will supplant that. 
Wait a second, you say, what about the Fujifilm X-T1? Yeah, I like it, too. But with it's 16mp APS X-Trans sensor it shows a few liabilities and a few bonuses compared to the E-M1. 
The liability is the bigger sensor means bigger lenses. Fortunately, Fujifilm doesn't have an FX lens lineup they can use a crutch (I'm looking at you Nikon), so they've built appropriately-sized APS lenses. Still, that's a bigger imaging circle than m4/3, which means somewhat bigger lenses at the same aperture size. No, I'm not going to get into another equivalency discussion here. From a pragmatic standpoint, most people are going to compare the size of a 70-200mm (equivalent) f/2.8 lens across systems. Yes, I'll lose a stop of DOF isolation with m4/3 versus DX doing that, but I gain smaller size and weight. 
The bonus is that the Fujifilm's larger and X-Trans sensor means lower noise. Though it is X-Trans, and I still have issues with very low level color smear, especially with the usual suspects of raw converters.
So the problem is trying to balance the pluses and minuses for the type of shooting you're doing. 
Personally, I'd say this: if you're mostly looking for small and light, consider the E-M1 first. If you're mostly shooting in low light, consider the X-T1 first. Beyond that, the differences start to get pretty tough to decipher. You could be swayed one way or the other based upon something very specific to your needs. 
I know that some are a little reluctant to buy into m4/3 because of Olympus' continued losses in its camera group and what that might portend, but I have two responses to that. First, a camera as good as the E-M1 should last you a long time, and it's already got a wide range of lenses that can be used with it. Second, no Japanese camera company (indeed electronics high tech company) is immune from what's happening in the market these days. In some ways, Olympus is better off than Nikon, as cameras aren't Olympus prime business and their prime business is very healthy and profitable. That's not true of Nikon, where they are mostly reliant on how their camera business does. Just as the camera world changed very rapidly in the late 90's and early 00's, it's likely to happen again, so there's no "sure bet" nor is there a "bad bet." Buy based upon what you need and what you want and what's available today.
Recommended (2013, 2014, 2015)
2018: this model is out of production and no longer available new. But used copies can easily be found. Also look at a current model, which would be the OM-1.

Support this site by purchasing from this advertiser: