We're fools whether we dance or not, so we might as well dance. —Japanese proverb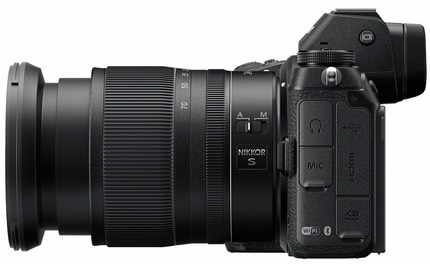 In a somewhat awkward, slogan-filled, streamed presentation from an event for the press in Tokyo, Nikon today introduced their new Z mirrorless system, to be comprised initially of two cameras, the 24mp Z6 and the 45mp Z7, plus three initial lenses, 35mm f/1.8, 50mm f/1.8, and 24-70mm f/4. There's a lot to discuss here—and I have other articles and database entries on the site today, as well—so let's get right to the details before getting into the discussion.
The Z6 is a 24.5mp full frame camera, the Z7 is a 45.7mp full frame camera. Very similar to the D750/D850 in terms of sensor differentiation. The two new cameras share a number of attributes, including the magnesium alloy body itself, the tilting, touch-enabled rear LCD, and a new five-axis image stabilization system on the sensor. 
Both cameras max out at 4K/30P video, which will be a disappointment to some (they wanted 4K/60P). But we do get 1080/120P, plus the HDMI output is now 10-bit 4:2:2. Nikon has joined the "log party," and the cameras also feature a new N-LOG Picture Control. 
Each camera has a single XQD card slot. We were all hoping for the first XFExpress card support, but that still seems to be "in the future." Nikon claims there will be a firmware upgrade for that. Both cameras use a new variation of the venerable EN-EL15 battery (the EN-EL15b), with battery life rated at 330 shots CIPA (Z7). A new AC-power module called the EH-7P has also been introduced.
The Z6 and Z7 differ in only a few attributes: pixel count, ISO range, frame rate, and focus points. The Z6 is 24mp with an ISO 100 base, 273-sensor focus system, but shoots at up to 12 fps. The Z7 is 45mp with an ISO 64 base, 493-sensor focus system, and shoots at up to 9 fps. (Max shooting speeds are with focus, but exposure locked; buffers seem somewhat constrictive, though I'm still waiting for more detail on that.)
Price is US$1995 for the Z6 body, US$3399 for the Z7 body. Bundles that include the new FTZ adapter and/or the 24-70mm f/4 lens are also available.
Compared to the Sony A7 models, the Nikon Z series is a bit bigger (at the grip and in the height to the top of the viewfinder), and comes in at about 25g more weight (that's still about two-thirds the weight of a D850, and lighter than almost anything in Nikon's DSLR lineup). 
As Sony did with the A7 models, Nikon has chosen to use the same body and controls for both their new Z cameras. Those controls are an interesting mix. The three buttons behind the shutter release and the shutter release itself are instantly recognizable from the DSLRs. So is the Front Command dial and the whole hand grip (though scaled down to about D7500 size). 
From there, things start deviating from the DSLR designs. The Rear Command dial is a big, fat dial squarely on the top of the camera, though it can be reached by the thumb. The buttons usually clustered down the left side of the DSLR LCDs have moved to the lower right side of the camera back or disappeared completely (the Protect key, for instance). The Info button is gone. The old Live View dial/button has moved up next to the eyepiece and LV button itself is now DISP (because the camera is effectively always in Live View mode, you don't need a button for that, but you do need a button for what is displayed on the view). 
The thumbstick (focus) button that we first saw on the D4 reappears here, and just below the AF-On button, where it belongs. 
On the front of the camera we have two very large, rectangular Fn buttons. Nikon has put a small nub on Fn2, which will make it easier to distinguish which you're pressing. 
On top, we have a small top LCD display showing the main camera setting—much like the Fujifilm X-H1—and, curiously, a Mode dial over to the left of the EVF (when holding the cameras). On that dial we get Auto, the usual PASM sequence for exposure mode, plus three user-defined positions (U1, U2, U3). 
What is missing from the high-end DSLRs are the focus mode button/switch, a metering mode button, a WB button, and a Picture Control button. Nikon is counting on the touchscreen a bit heavier than before, and some might not like that. The Sony A7/A9 cameras seem to have a bit more in terms of physical controls scattered about (and most are configurable to virtually any menu item).
So the concerns over whether Nikon nailed the ergonomics will boil down to actually using the cameras and seeing if you like the control/hand position over on the right side. There's a bit of simplification overall, but coupled with what Nikon has been doing with the touchscreen on recent cameras, I think we Nikon DSLR users will find the new mirrorless cameras easy to get used to.
Speaking of the touchscreen, the back LCD tilts, much like the D850 screen, only with a 2.1m dot display. The EVF uses a 3.69m dot QVGA display with 0.8x magnification.
On the left side of the cameras we have a new alignment of the input/output ports. The headphone output and mic input are at the front under a door. The USB, HDMI, and remote ports (D750 style, not the 10-pin round pro style; MC-DC2) can be found to the rear of that left side.
Let's head inside: the new sensor-based image stabilization is still labeled VR, and works with F-mount lenses mounted on the new FTZ adapter (F-mount to Z-mount).
The initial lenses are the 35mm f/1.8 S, the 50mm f/1.8 S, and the 24-70mm f/4 S. Price of the lenses: 35mm US$850, 50mm US$600, 24-70mm US$1000. Nikon made a point that the new Z lenses have little or no focus and focal length breathing, which is something video shooters will appreciate. They are also claiming high resolution, low aberrations, and performance above and beyond what people expect out of f/1.8 and f/4 lenses. 
All three lenses have Nano crystal, and are labeled S, for S-line. The S-line labeling apparently refers to lenses that pass a higher standard of MTF and other standards than previous lenses. A full roadmap for S-line Z lenses was also produced, something new for Nikon.
Visually, at first glance, the cameras appear much like a Nikon DSLR handgrip bolted onto a Sony A7 sized main body, with an enlarged Nikon V2 style EVF. I can't call them handsome cameras at first glance, but maybe they'll look better from the other side while using them ;~).
In terms of timing, the Z7, 35mm, and 24-70mm will ship first in about a month. The 50mm lens will follow the next month, and the Z6 will appear sometime around Thanksgiving. 
To me there's a bit of a disconnect in the cameras and the lenses that Nikon has announced. We get arguably better-than-D750 and perhaps-equal-to-D850 mirrorless cameras—both likely to be used by pros and very serious shooters and clearly top end in capability—with not so top end lens designations (f/1.8 on the primes, f/4 on the zoom). It seems odd that we don't have a true wide angle prime for the Z7, and it seems odd that we don't have we don't have a short telephoto prime for either model yet. 
The f/4 zoom uses Nikon's usual trick with kit lenses to keep them appearing small and light while traveling: it has a rest position; you have to move the zoom ring over to the numbered area (24-70) to shoot. All three announced lenses use a simple, modern polycarbonate body/shell that looks pretty Plain Jane, with basically only one control (other than necessary focus/zoom rings), the A/M switch. We still get Nikkor style bayonets for the lens hoods. 
————
If we ignore the Nikon 1 for a moment, Nikon has once again done what is their historical tendency: enter or refocus product at or near the top of the market. As with SLR, autofocus, and DSLR, Nikon has returned to that strategy now with full frame sensor mirrorless. 
Nikon has long stated that their goal has been to unseat Canon as the top camera producer. That probably stems from jealousy that Canon originally didn't have optical production, thus the first Canon cameras actually used Nikkor lenses. That didn't last long, and eventually Canon became a bigger lens and camera maker than Nikon and the rivalry became earnest.
While Canon might be the company that Nikon constantly looks at out the front window, the rearview mirror has had Sony suddenly appearing to gain on Nikon as Nikon went into a strong deceleration long after peak camera production was reached.
I believe that's why the Nikon Z6 and Z7 seem to target the Sony A7/A7R models. Nikon has watched Sony iterate those products from nascent full frame cameras with clear liabilities, to ones that are competitive with DSLRs. There seems to have been a bit more urgency to the Z6/Z7 development than is usual in Nikon development, at least if I got the timing signals correct from my sources. 
I've written it before: Nikon seemed to not understand that we were near peak camera sales at the start of the decade, and, coupled with the confusion and disruption caused by the 2011 quake and flood, continued to press the accelerator to the floor when they would have been better served by being a little more careful in their approach. A number of untimely key retirements and management transitions didn't help matters. In the most recent past, Nikon suddenly slammed their foot on the brakes, which is one reason why Sony seems to be getting bigger in the mirror.
That said, it's still Canon with about half of the overall ILC market, Nikon with about a fifth, and Sony with a bit more than an eighth. Perhaps things look closer in the mirror than they at first appear.
Today we have Nikon appearing to make a partial transition towards mirrorless, and doing so again using a higher-end re-entry point. Partial in the sense that full frame may bring high revenue numbers with it, but not nearly as much volume. For example, in the US, the DSLR lineup for Nikon seems to run about 10:1 in favor of crop sensor versus full frame units (11-12% full frame). Sony's Alpha series figures aren't far off from that, though they've been distorted a bit lately by not having any new crop sensor products while churning full frame ones. 
I continue to hear stories about DX-type mirrorless cameras that Nikon designed and prototyped, though with great uncertainty as to which will appear. The original mirrorless re-entry strategy for Nikon apparently was to do much like Canon did, and create a DX-M line that would help them transition D3xxx and D5xxx entry purchasers. There was also a "just make a mirrorless D3600" prototype that used the current DX mount. One of those products may still yet make it to market, but one key question would be when (guess: Nikon would target a more consumer-oriented trade show, such as CES or CP+ or next Spring's Photokina). 
I know that camera enthusiasts get all excited about new products, and that "full frame" is regarded as the bomb on the Internet, but let me point out once again that products like the Sony A7R Mark III sell at only about 100k units worldwide a year. The A7 Mark III may do somewhat better than that, though it's too early to tell. This produces a lot of revenue and profit due to the high price points and big product margins, but it's not a huge volume (one reason why Sony's marketing department keeps using "value" in their graphs instead of "units"). We're not talking about millions of units here, but low to mid 100's of thousands lifetime. 
The same should be true for Nikon if these new Z cameras do as most are projecting. That's enough for the time being to keep the Nikon revenue and profit numbers up, and it also should be enough—coupled with the DSLRs—to keep Sony's serious ILC market share somewhat in check. 
Nikon's problem, as it has been for some time now other than with high-end FX DSLRs, is lenses. By introducing a new mount for the mirrorless efforts, they are starting from scratch for a change. I know that discussions within Nikon were strong and vigorous about this issue. There was a contingent that didn't want to launch with only three lenses (and that, by the way, was true for the EOS-M like DX initiative, too). I heard from two folk directly and separately about the debate, which was a bit surprising, as I don't usually get unsolicited comments out of Tokyo, only curt and sometimes cryptic responses to queries.
At Nikon's usual average pace of about six lenses a year, even if they devoted all new lens development to mirrorless, it will take Nikon several years to fill out just the wide angle, normal, and mid-range lineup of primes and zooms. This puts huge strain on the F-mount adapter. 
So, let's wrap up this article on Nikon's new system by documenting the questions that everyone wants more elaborate and detailed information about:
How's the focus perform? Is is DSLR level? Better at some things, worse at others?
How's the video focusing? Nikon has long had too much over-and-back in their video autofocus moves; is that gone?
What's the F-mount lens performance with the adapter? In particular, aperture activation and focus motor performance. Nikon has physical (D, G) and electronic (E) aperture variations in the lineup, plus we open up a can of worms with the AI manual focus lenses. Nikon has AF-I, AF-S, and AF-P focus motors, and there were many variations in the AF-S era. Does everything work as expected, or are there issues with some older gear?
Gotchas? Sony is well-known for their footnotes ("feature not available if X"). Do we have any of those to worry about, particularly with new-to-Nikon things like on-sensor IS?
New Z mount lenses. What's the road map? 
What's the weather sealing like? The full frame pro Nikon DSLRs are good (better than the Sony A7/A9's). Is this true of Nikon's new mirrorless, too? 
What happened to two things: dual/quad pixel technology and true global shutter? These were long-held design goals of the Nikon sensor team for a high-end mirrorless approach that would put them ahead of competitors. How far away are we from having those technologies?
Did Nikon just score a self-goal? How much will the new mirrorless systems take away from the Nikon DSLR sales? Particularly the D750 and D850, which have been the primary full frame sales drivers Nikon has. One typical comment I've received many times now: "I expect seeing plenty of D850's for sale at bargain prices soon after the adapter ability has been confirmed."
Buried in the transition from DSLR to mirrorless are several other transition issues to keep a watch on:
Transition of camera size, which impacts ergonomics
Transition from optical viewfinder to electronic
Transition of lens mount from F mount to Z
Transition of XQD to CFExpress
So we have a lot of things to be discussing as this new camera gets into users hands and we start to see how those transitions are going to work. 
Finally, a note. The "Sony crowd" I see a lot of posts from on the Internet (and in my email) is a bit bi-modal in distribution (I almost wrote bipolar ;~). There are what we usually refer to as the Fan Boys, who basically have taken a leap of faith and zealously devoted themselves to Sony, mostly due to what they (sometimes falsely) perceive to be technological advantages ("hey, they make the sensors!"). 
Then there's those that converted to E-mount based upon Canon's and Nikon's slowness to the mirrorless market, and who tend to find some of the Sony platform off putting. I'd put myself in that last category. I've dabbled with the Sony A7/A9's for some work for quite some time now, as there are sometimes advantages to mirrorless over DSLRs. Yet Sony's ergonomics and menu system do leave something to be desired.
I don't think anything that Nikon has done will change the minds of the Fan Boy crowd even a little bit. Once someone commits to a position via first-premise leap, it's very tough to change that position. To do so would mean to admit being wrong, for one thing. 
The Leaker/Sampler crowd, on the other hand, showed willingness to tolerate clear issues for them to get a perceived advantage of some sort (which could just have been "being with the perceived leader"). That crowd has already proven themselves to be promiscuous, so both Nikon's re-entrance to mirrorless and Canon's soon-to-come full frame mirrorless entrance will be looked at carefully. 
Sony has to be both happy with Nikon's competition and worried about it. Sony will be happy because it validates the decision to abandon DSLRs/SLTs. Full frame mirrorless is really now a desirable thing, because even Nikon (and soon Canon) agree that we need these things. Sony's marketing team could go so far as "Welcome Nikon, Seriously" (that's a historical reference to Apple's "Welcome IBM, Seriously" ads in the early 80's). That approach would be to essentially say "see, I told you so, and oh, by the way, we've got four models that are wickedly good and on their third generation."
Sony will be worried about Nikon's new entries because it could dull A7 sales. Sony had full frame mirrorless pretty much to itself, with Leica being the only other player you might call competition. Sony's marketing was all predicated on full frame Mirrorless > DSLR, all else equal. That's no longer something they can claim for themselves, and Nikon is still a bigger player than Sony in terms of still camera production. 
Expect some Sony reactions. That could come through increased marketing, through pricing, through more pro services, through a look-at-the-lenses campaign, well, through a lot of different angles. If I were running Sony, I'd be loading up all the marketing guns and aiming them. 
To me, competition is good. It means that you can't rest on laurels, you have to keep moving. That's how true advances actually happen. Thus, the real thing to watch is how nimble the big three players are with full frame mirrorless. I'd get excited if Nikon's entrance forced Sony to deal with their ergonomic issues, or if Sony's competition forced Nikon to get more aggressive about lens releases and technology advancements.
You can already see some patterns developing on the net: "A new system will have more problems than a third generation one" runs one theme I'm seeing from Sony fans. "Wasn't invented here" (e.g. Nikon's adoption of an IBIS system) is a sub-theme, though I'd point out that Sony didn't invent many of the things that they rest their marketing claims on. Sony was not first with on-sensor PD, not first with IBIS, not first with a lot of things. Indeed, even some of the things people think are Sony inventions, such as dual gain sensors, are actually licensed IP (though I'll admit, refined by Sony). 
Finally, here's the dirt simple truth. The three primary sources of camera purchase are:
New users (e.g. the young getting their first dedicated camera)
Updaters/Upgraders (e.g. existing DSLR/mirrorless users getting a better camera)
Replacers (e.g. someone who dropped, damaged, lost, or had stolen their gear and is buying again)
Nikon's problem is the first group, particularly recently with lame entry DSLR upgrades and marketing, plus no real entry cameras to speak of (compact or mirrorless). Sony's problem is more the second group (because people in one brand tend to stay in that brand, and Sony started in a deep third place position). So it's going to be interesting to watch as the two battle it out for second place in the ILC business.
I'd still say it's Nikon's ball to fumble.
Support this site by purchasing from the following advertiser: <use any B&H link on the site until I can put in exact ones>