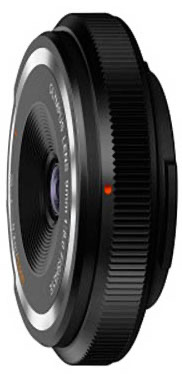 m4/3 lens format 
5 elements in 4 groups, 2 aspherical
140° diagonal angle of view
fixed f/8 aperture with rounded opening
no image stabilization
8" (0.2m) minimum focus, manual focus lever, internal focus
no filter ring, no hood included
2.2" x 5" (? x ?mm) long and diameter
1 ounce (?g)
available in black
US$100 suggested retail price
Announced January 29, 2014, available March 2014
Note: This is a unique accessory. It's really a body cap that can function as a simple fisheye lens. Cool.
Support this site by purchasing from this advertiser: