Source of review camera: B&H loaner
What is It?
The NX1 is Samsung's top-of-the-line camera. In a large DSLR-style package, Samsung has put together quite a few bits and pieces that immediately spark interest to anyone looking at a spec sheet.
First up, we have the sensor itself. As I write this, it's the highest resolution APS-sized sensor on the market at 28mp (6480 x 4320 pixel images). No AA filter sits over the sensor. Inside the chip there's a lot of technology packed in: Backside Illumination (BSI), on-sensor phase detect pixels, 15 fps burst performance, and even 4K video capability. Samsung has checked all the boxes here, and the BSI technically should give a small bump to low-light performance as it should capture more of the light than traditional sensor designs. 
For viewing, the NX1 has a 2.36m dot EVF with a 21mm eyepoint and -4 to +2 diopter adjustment, and that EVF produces a very fast 5ms response; that's as close as any EVF has come to the "instantaneous" of the DSLR's optical viewfinder. Out back we have a tilting 3" 1.04m dot SuperAMOLED touchscreen. AMOLED is easier to see in bright light than the TFT designs most cameras are using. 
We've got 802.11ac WiFi, Bluetooth, NFC, and a USB 3.0 interface, which is pushing the communicating side of the camera further than most DSLRs. Heck, even the ASIC in this camera is quad core, derived from Samsung's highest end smartphones (some DSLRs are still single core, by the way). You get a distinct impression from the spec sheet that Samsung threw the kitchen sink in. (I should also point out that Samsung probably does a better job of integrating their camera with mobile devices than the others do, especially Samsung phones.)
The body is very DSLR-like in looks, but also in physical aspects. Underneath the weatherproof body is a magnesium alloy frame, pretty much like high-end DSLRs use. Scattered throughout the body are plenty of DSLR-like controls, including a top panel settings LCD, two control dials, a locking Mode dial with two custom positions, plus 13 buttons (plus the edges of the Direction pad for four more). 
Samsung made a big deal of the autofocus system at introduction, which features 205 phase detection points on the image sensor coupled with 209 areas in which the camera does contrast detection. The phase detection is said to work to -2EV, about what you'd see in DSLRs. Both parts of the hybrid system cover about 90% of the overall frame, and it's considered cross-type sensitive in about the central 80% of the frame. Samsung also spoke of this in conjunction with the 15 fps frame rate, expressing confidence that the camera could continuously follow focus at that shooting speed. I'll have more to say on that in the performance section. Note that shooting raw files at 15 fps you'll get 12-bit files instead of 14-bit. 
The shutter is mechanical and ranges from 30 seconds to 1/8000 second, with a flash sync of 1/250. Speaking of which, there's a pop-up flash with a stated GN of 36' (11m) at ISO 100. That's relatively strong for a pop-up flash, even in the DSLR world. 
On the video side, the NX1 performs UHD (3840x2160) at 30 fps, full 4K at 24 fps, plus 1080P/60/50/30/25/24, 720P/60/50/30/25, and 480P/60/50/30/25. Compression is H.265 (HEVC), which is a slight problem for some, as it's not fully supported by every editor at the moment. You may have to transcode your video to edit it. You can get 4:2:0 color, 8-bit uncompressed 4K video over the HDMI connector, too. Headphone and external microphone jacks are under a small door on the left of the camera. Focus peaking, zebra patterns, mic level adjustment, and even a wind-cut filter and fader are included in the video feature set.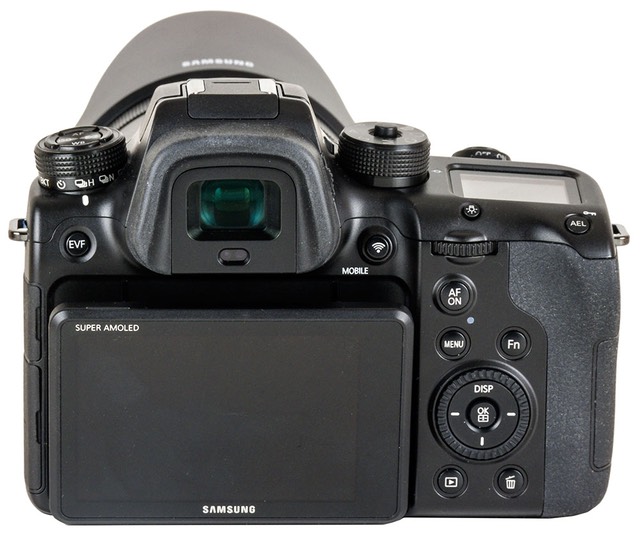 The BP1900 battery is good for 500 shots CIPA according to Samsung. The NX1 uses SD cards, and is compatible with the UHS-II standard. 
The NX1 comes in two forms. The body only version is US$1500, the kit with the 16-50mm f/2-2.8 lens is US$2800 and comes with the vertical grip, a regular charger (the body only uses USB charging), and an additional battery. The camera is made in China.
How's it Handle?
Samsung's been sampling other vendors' wares. Unfortunately, that's given them a bit of a split personality in the NX1. The top left button array on top of drive selector is dead on Nikon pro DSLR influenced. The vertical front control wheel and button inside the right thumb position on the apex of the thumb grip is dead on Canon DSLR influence. The locking Mode dial is Olympus. Yes, it's as if Samsung engineers were trying to mimic the best. 
My problem with this approach is it's a little bit off-putting for those coming from any DSLR. The NX1 mimics other control styles only partially, and intermixes that with something you won't be familiar with. I think they were hoping that they were picking the best of each thing they'd seen elsewhere, and that the combination would be greater than the sum of the parts. 
It isn't. There's not as solid a consistency to the user interface as I'd like to see. My hands go all over the place with the NX1 in ways that they don't tend to with the best DSLR designs.
Besides the mixed approach, Samsung also tinkered a bit with the actual implementations. 
For example, that top button cluster on the left side. Yes, it's arrayed much like Nikon does. But in many ways it's worse than Nikon's implementation: by feel you can't really tell where the buttons are; they just feel like a ringed ridge, not buttons. Nikon users complain all the time about not remembering which button is which—something I believe goes away if you actually use the camera much ;~)—but with Samsung's implementation I can even manage to press two buttons at once (especially with gloves; it's -10°F outside as I write this). This button cluster needs real buttons, and each button really should be angled in one of the four quadrants and not abutting another. 
On the right side we're more Canon-like, but I don't think Samsung got that right, either. The buttons are too recessed, and again tough to find with gloves on. The long separation between AEL and AF-On means you won't be using them together. 
These things aren't terrible, I just don't think they're optimal. The controls all seem designed for very small hands, which seems odd to me for a body that's bigger like a DSLR. Moreover, things like ring around the Direction pad seem underused, especially compared to the Canon DSLR designs. Autofocus controls seem underrepresented by physical controls, too, though you can use key mapping to assign those functions to various buttons, including parts of the Direction pad. 
I just don't get an overall feel for how Samsung thought I should be controlling the camera. There is a fair degree of customization available, but again, the controls as presented don't seem to have a single design center, so even customizing various functions/buttons doesn't really solve the problem.
That said, I adjusted to it fairly quickly. I'm a little slower in changing things with the NX1 than I am with my Nikon DSLRs or even a Canon DSLR, though. A little more thought into the nuances of the controls would have gone a long way, IMHO.
How's it Perform?
Battery Life:  I didn't get a long enough test period with this camera to really nail down battery life performance. The CIPA rating is 500, and I'd tend to say that's reasonably accurate based upon my initial shooting. I will say that the NX1 isn't quick to die like a lot of mirrorless EVF cameras. But I suspect that's because Samsung has picked an appropriately large 1800mAh battery for the camera.
I'm going to have to guess a bit here, but I'll bet that most people will find that they can get by with a single battery a day, as long as they aren't extensively using the rear LCD or running the camera's WiFi constantly. 
Focus: Ah, the US$64,000 question. Is it as good as a DSLR, as Samsung's marketing team would like you to believe? Simple answer: no.
I actually spent most of my testing time with the NX1 pushing it's focus system, including bringing the camera to our twice-a-week basketball sessions and doing some fairly specific partly controlled tests. There's good news and bad news to be told. 
The good news is that for more static subjects with contrast, you can probably say that the speed to focus is as good as most low-end DSLRs, at least with the fast lenses I was using on it (f/2 to f/2.8 basically). Moreover, the 16-50mm lens I used most of the time was very fast and silent in focusing. I don't like the "press center button to move use Direction pad to move single focus point" method for Single Point AF that Samsung has adopted (looking too closely at Sony, guys? ;~). You can use the touch screen to move the AF focus point, but that means taking your eye from the viewfinder. But assuming that I could get my focus sensor where I wanted to focus, the NX1 was fast, even in what I'd call relatively low light. That applies to touch autofocus, too. In very low light (e.g. night), not so much, but frankly, most cameras start to struggle as the light gets extremely low. The NX1 I'd judge to be mid-pack in that regard. 
The bad news is twofold. First, I'm not comfortable with Samsung's focusing when I let it use multiple sensors or even face recognition. Too many times the camera picked the wrong thing. Often that was the basketball court floor, not the players. To be fair, not all DSLRs do a great job at this, either, although some can be uncanny when set right and the situation warrants. I never found that setting/situation that produces "uncanny" with the NX1. Moreover, I'd judge it as a bit behind the Nikon consumer DSLRs in its smarts for deciding where to put focus. That said, you can switch to single point AF and control where the camera focuses, and I think I'd suggest that most people do that with the NX1. 
The more important bad news concerns focus tracking. Samsung set a really high bar for themselves. After all, the camera shoots 15 fps. That's a lot of frames to keep the focus system performing through, and more than any DSLR is capable of. 
So here's the thing: I set up a number of sequences where I had a player drive from behind the three point line towards me under the basket:
More often than not, the camera got "close to" the right focus point, but tended to be behind where it should be. The results are what most people would probably call "acceptable" shots for modest use (see above), but on close examination show that the focus point was actually missed. Often not by much, but enough that the NX1 really can't be said to get DSLR-like tracking results. My D4s, for instance, can be uncanny in this situation, basically nailing focus on every shot. The NX1 missed on most shots, though not by enough to make the shot totally unusable. 
I tried a lot of different action sequences and a lot of different camera settings. If there's one large face in the frame (larger than above), the camera does better with face recognition turned on. If you turn on multiple sensor coverage, the camera does poorer in these sequences. 
In my view, the Nikon 1 is still the champ at continuous autofocus performance for mirrorless cameras. I get more consistent tracking focus at 15 fps with the V3 than I got with the NX1. On the flip side, I suspect that the NX1's performance will improve over time, as Samsung's software engineers start catching up to what the hardware should be able to do. Note that Olympus just did that with the 3.0 firmware release for the E-M1. I expect the NX1 to get better as long as Samsung keeps updating the firmware. 
Overall, the NX1 sits right up there with the best focusing larger sensor mirrorless cameras (Fujifilm X-T1, Olympus E-M1, Panasonic GH4, Sony A6000). It's really tough to judge between these cameras in terms of autofocus performance, though, as each seems to have slightly different weaknesses, and lenses also play a bit of a part in how they do in any situation. Certainly Samsung has nothing to be ashamed at about the NX1's focus performance. Still, I was hoping for a little more DSLR-like and little less mirrorless-like. 
Note: Samsung is hinting at updates to the AF algorithms in a future firmware update. As happened with the video side of the camera, it appears that the firmware is a work in progress. This makes it especially tough to come to any real judgment on where the camera stands. 
Image Quality: A lot has been made of the BSI aspect of the NX1 sensor. It's the first larger sensor to incorporate this technology. As I've noted, I wasn't really expecting a large impact from that. Even at 28mp, APS-sized sensors have perfectly reasonable-sized photosites and a pretty good fill factor. 
Let's look at the low light performance (ISO 3200) to see how it does:
Quite well, actually. Colors are blocking up, and if you really pull out noise you lose some fine detail, but Nikon D300 owners would be envious of this type of performance. One curious thing is that I haven't quite figured out how to tune NR/sharpening and which methods to use on the NX1 yet. Both the camera's own JPEG and any Adobe-only approach seem to produce what I'd call "busy" pixels. Edges are there, but "crinkly." The noise pattern itself doesn't seem to have any pattern to it, but it also doesn't have that randomness we associate with film grain, either. Since I'm writing this review in a shorter time period than I usually do, I haven't had a chance to really delve into what's going on here. 
However, I can say this: to get the best results out of this camera I'm pretty sure I'm going to have to delve deeper into Adobe's options to get the images looking the way I'd want them to. Nothing wrong with that. My typical conversion for Olympus E-M1 shots has something like 25 tweaks to what Adobe wants to do with the image. I'm guessing that my final approach to the NX1 would be the same: a lot of experimentation to get the most I can out of the pixels. 
Other than a nervousness to the noise when it does get produced, the NX1 image quality seems well behaved. Color response seems fine and close to that I've seen before with Samsung's cameras and detail is definitely there in spades with good lenses. I know some like reviewers to call "winners" and "losers," but I'm not sure how you do that with the levels of sensor capability that Samsung and Sony are producing in APS these days. I just don't think image quality is going to be the thing that makes or breaks your decision on this camera. Image quality is excellent, just as you'd expect from a state-of-the-art APS sensor. 
Final Words
I have to say right up front that I was rooting for this camera from the moment it was announced. Samsung's mirrorless saga has been a long one, and filled with pretty decent cameras along the way. I've enjoyed every one I've used, and Samsung has tended to avoid the gimmicky and keep their cameras no-nonsense in terms of photographic control. Their cameras that aren't well known, don't sell well in much of the world, but certainly hold their own against competitors while being photographer friendly. 
The promise of the NX1 was that it was DSLR-like performance in a mirrorless configuration. State-of-the-art APS sensor, phase detect autofocus, fast frame rate, top end specifications pretty much right down the line.
As I noted above, the first impression the NX1 makes is very DSLR-like. It's big for a mirrorless camera, it has the exact style of a DSLR (complete with pronounced right hand grip), and it has very DSLR-like controls. It's a DSLR. 
Only it's thinner at the lens mount than a DSLR. So it's a mirrorless camera that looks convincingly like a DSLR. The reason why I'm spending time on this thought is this: if it looks like a DSLR, you expect it to perform like a DSLR. Anything less is ultimately a disappointment. 
And I think that's where the NX1 disappoints a bit. The sensor is holding its own in terms of image quality. The shutter mechanism is firing off at rates faster than almost all DSLRs. The EVF probably comes the closest yet to matching the responsiveness of a DSLR optical viewfinder, close enough that most people aren't going to quibble about the difference. Unfortunately, the focus isn't quite where I'd want a US$1500 camera body to be. At this price level, we're somewhere between a Nikon D7100 and a Canon 7DII, and the focus performance of the NX1 is not between those two, it's lower than the D7100 in my opinion. 
Of course, it's not the focus performance of the original mirrorless cameras, either, including previous Samsung models. This last generation of mirrorless cameras made great strides forward, and Samsung may have made the biggest stride of anyone. 
The problem I see is that Samsung seems to have targeted the high-end APS DSLRs with their design. The NX1 body doesn't shave as much size and weight off of something like the D7100, for example, while the Sony A6000 does. 
Right now we're in an embarrassment of riches. Ten years ago you would have killed for a camera like the NX1, and its performance. Today, we have all these options, all of which produce incredibly good images, each of which has some aspect of it that isn't as good as a competitive product. Which means that you have to select gear by "balance." And not just any balance, but the balance that's right for you. 
Here's my advice: if you're going to try out the NX1, the thing that will probably make or break your decision towards it is the focus performance. I can't really fault anything else about it. Indeed, after shooting with it for a day or two and being quite pleased with the image quality aspects of the camera and most of its handling, most of my time with the NX1 was spent exploring the focus. Many times and in many situations, it worked like I expect my DSLRs to work. Other times it didn't. But I also put it through some really tough tests. 
In the end, my personal conclusion is that the NX1 is priced too high for the performance it gives. That's especially true when you start comparing it to the Sony A6000. I actually think the NX1 focuses a bit better in many situations than the A6000, and the NX1 seems to be a bit better in low light in terms of image quality, too. But you're paying a huge price for those "little bits" and giving up a lot in terms of size and weight. 
Someone at this point is screaming at their computer "but, Thom, that 4K video is the deal clincher." I don't know, I'm not evaluating the NX1 as a video camera. Generally, video in a still camera is to me a nice extra, but it isn't something that dictates the decision. I've long held the position that if you're really trying to shoot excellent video, get a video camera. 
Every time I write "buy a video camera for video" I get quite a few people arguing with me, generally with false arguments. One argument, for instance, is that Canon showed what DSLRs could do with video and everyone uses them. Hmm. Then why did Canon completely redesign those cameras to come up with the C models that are video cameras? Simply put, the location and functions of still camera controls and the still camera form factor are not optimal for video. That becomes especially true if the video camera is moving with a subject. 
Commercially, I shoot more video than I do stills these days. I have a dedicated set of video gear for a reason. In other words, I put my money where my pen is. Yes, it's nice to have a camera that's flexible, and sometimes I will use a DSLR to supplement my video gear. But still camera video still has lots of issues that become apparent as you try to do quality video—and why would you need 4K video if you're not interested in quality?
Finally, note that once you rig a still camera for shooting the best possible video—which is also going to need quality audio—you change the camera dynamics quite a bit. I'm always amused when people start adding pre-amps, handles, matte boxes, and more to their still camera. Good video cameras are already rigged for video and have quality pre-amps in them with balanced XLR inputs.  
I like the NX1. Very nice camera. Certainly the best camera Samsung has produced to date, and they've produced some very good ones. If you're into the "mirrorless camera like a DSLR" thing, then the Samsung NX1 has to go on your list to test drive.  
2018: this model is out of production and no longer available new. But used copies can be found. 
Support this site by purchasing from this advertiser: